GRoW
Ridder
GRoW is the world's first commercialised two-armed harvesting robot.  This robotic platform harvests tomatoes on the vine and provides a complete solution to labour problems in the horticultural industry, from harvesting to packaging.
With its two arms, GRoW can harvest on both sides of the row in a greenhouse, making robotic harvesting faster than ever and taking a major step towards automated harvesting. GRoW deposits the harvested bunches in standard-sized reusable crates that can be easily integrated into existing production procedures. Once full, the crates are automatically stacked and packed on the GRoW-Assist, the GRoW-pulled harvesting cart.
GRoW's AI-driven 3D vision capabilities provide high-resolution colour images for successful harvesting and provide detailed crop data for ongoing analysis. Thanks to our advanced algorithm, GRoW gets smarter with every cut.
GRoW doesn't just detect clusters: it analyses the entire environment in order to map and remember obstacles. Ripeness is assessed on a 12-color scale, with several programmes available for different varieties.
With built-in wireless communication, GRoW is always active and accessible via the cloud, providing real-time data collection and analysis for better crop management, as well as 24/7 service and support.
Manufacturer's details
Company name : Ridder
Address : Honderdland 131
2676 LT
Maasdijk
The Netherlands

Website : http://www.ridder.com/grow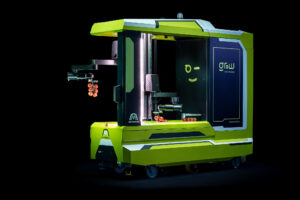 Category :
Machines and automation

2023 SIVAL Bronze medal winner
Company details
Company name: Ridder
Address: 15 B Av. des Frères Lumière
44250 Saint-Brevin-les-Pins
Tel : 0240390304
Website : http://www.ridder.com/grow
---