GENEVA® ROOTSTOCK G11 P.V.C.
Dalival SAS / Pépinières domaine de Castang SAS
Geneva® rootstock G11 P.V.C. is the result of a cross between M26 (stronger than the M9) and Robusta 5 (rootstock resistant to cold, fire blight and phytophthora). It results from a programme at the Cornell University in the United States for which Castang and Dalival are European distributors. They have been responsible for setting up tests and commercial development in Europe.
Resistant to fire blight and phytophthora, it is also less susceptible to frost than the M9 range currently used in arboriculture.
In most of the tests carried out by European research centres, the Geneva® G11 P.V.C also produced quicker fruit set and better colouring for many varieties.
Its biggest asset is the way it copes with soil fatigue and poor soil. Replanting issues and constraints are currently a matter of concern throughout Europe.
Geneva® rootstock G11 P.V.C. also meets the expectations of growers using organic farming or those who are converting, who are looking for rootstocks which are both stronger and more productive than currently available rootstocks.
Geneva® rootstock G11 P.V.C. combines benefits which have never previously been found in one single rootstock.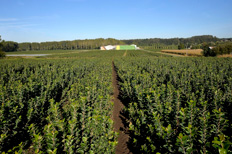 Category :
Innovation variétale

2017 SIVAL Gold medal winner
Company details
Company name: Dalival SAS / Pépinières domaine de Castang SAS
Address: 75 avenue Jean Joxé
49100 ANGERS
Tel : 0241437777
---