Chou FIORETTO® F1
GRAINES VOLTZ
Fioretto®F1 is the result of a cross between cauliflower and broccoli. With their elegant creamy-white florets on thin green stems, they look like plant coral. Far more refined than cauliflower, they have a slightly sweet flavour with a hint of hazelnuts. Their florets are significantly more tender than cauliflower. When cooked, the 10-20 g stems remain slightly crisp, with a beautiful lime green hue. There is no need to peel them and the whole plant can be eaten, from stems to florets.
There are so many ways to prepare them: raw in dips or salads, as simple snacks, roasted, marinated, as soup, fried or in tempura batter. They are an excellent source of vitamins C, B6…, potassium and fibre.
Fioretto®F1 can be sold as heads or pre-chopped in trays. They are a perfect match for green or purple broccoli and can be stored for up to a week in the refrigerator.
There are two varieties available: 70 and 85 days.
As an easy-to-prepare-and-eat all-rounder, Fioretto®F1 will introduce the consumer to a whole new side of cauliflower.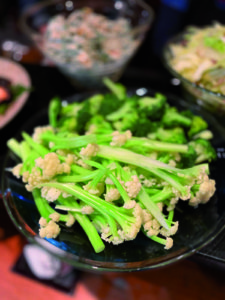 Category :
Innovation variétale

2020 SIVAL Bronze medal winner
Company details
Company name: GRAINES VOLTZ
Address: Z.A. LA PERRIERE, 17 RUE LAVOISIER
49800 LOIRE-AUTHION
Tel : 0241545710
Website : http://www.grainesvoltz.com
---