AGRIWARE FIELDBOOK APP
MPRISE AGRIWARE INTERNATIONAL BV
New Fieldbook App to monitor activities all the way to the plots. This Smartphone or tablet application directly records and shares in real-time any production-related information with all the teams who need it, regardless of production locations.
This mobile application with a GPS tracking feature enables you to record crop inspections, control operations, monitoring of such actions and latest yield estimates for a specific plot. All this data is recorded online or offline, in case your device is out of range. The data is then stored in Agriware's secure database.
This application can be adapted to any company and then for a specific variety depending on the needs of both the company and the staff in the field.
Examples of recordable data:
– Number of seeds used and seedlings transplanted
– Germination monitoring and updates on work carried out
– Real population count at each production stage
– Record and update of yield estimates and probable date of availability of seeds at each visit. Such real-time information can be obtained from the sales and/or sales administration staff.
– All the key dates of a production cycle: sowing and/or transplanting, bolting, flowering, fertilisation, harvest etc.
– Direct recording of photos to illustrate observations carried out
The Fieldbook App has been specifically developed for seed producing and ornamental plant growing companies.
We are constantly pushing the development of our solutions further. With us, you will always have the latest innovations available.
Company details
Company name: MPRISE AGRIWARE INTERNATIONAL BV
Address: Newtonstraat 2
3902 HP Veenendaal
Tel : +33 6 24 96 74 21
Website : www.mprise.nl/fr/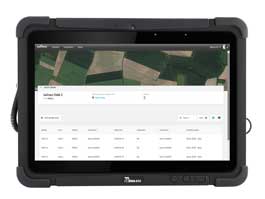 Category :
Services, software

Nominé pour le SIVAL INNOVATION 2019
---