SIT-ON ASSISTANCE
MARECHAL
Carry up to 8 people in a ground-level seated position to make it easier for operators to work on nursery or vines.
Each operator can adjust their workstation to suit their individual needs (height, swivel or fixed seat, working forward or in reverse, right or left hand work, footrest)
This unit spans two metres across the plant lines.
It can follow variable trajectories
This unit is fitted with solar panels and on-board batteries for full autonomy.
The two continuous rubber tracks ensure very high stability and jolt-free traction. It does not interfere with the precision of movement.
The self-guiding system with integrated self-levelling feature perfectly rounds off this outstanding machine.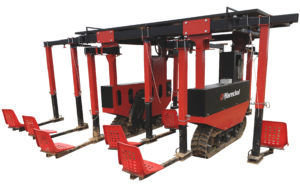 Category :
Machinisme et automatisme

Nominated for SIVAL INNOVATION 2020
Company details
Company name: MARECHAL
Address: RUE DU TORDOIR
59213 BERMERAIN
Tel : 03 27 23 82 92
Website : http://marechal-agricole.fr
---