2D AGRONOMIC SERVICE
Agralis
Irrimax 2D is a tool intended for technical advisers to assess the efficiency of an irrigation system.
By positioning two or more Sentek sensors only a few centimetres apart, the Irrimax software creates a video showing moisture and root distribution and changes over time. The probing depth depends on the length of the sensors, with measurements carried out in 10cm-intervals and every 30 minutes.
This video is a cross section – i.e. 2D – view of the soil. It is used to diagnose and check that the irrigation bulb is working normally, especially as a drip. Thanks to the agronomic diagnostic service, it is now possible to determine root prospection for short or long cycle crops.
This tool is used to check the structural condition of the soil and to observe real-time potential problems with the soil structure, which may directly impact the growth and, as a consequence, the profitability of a crop. The technical adviser can then notify producers and offer them adequate solutions for a sustainable harvest.
Manufacturer's details
Company name : Agralis
Address : aérodrome d'Agen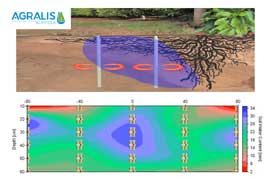 Category :
Services et Logiciels

Nominé pour le SIVAL INNOVATION 2019
Company details
Company name: Agralis
Address: aérodrome d'Agen
47520 Le Passage
Tel : +33553472400
Website : http://www.agralis.fr
---