VERTAL MARAÎCHAGE
Groupe Vertal
Do your crops have low tolerance to stress? / Still not rid of those diseases in spite of fungicide applications? / Are you struggling with fast wilting crop issues? / Are you dealing with controversial substances being withdrawn and not replaced?
Boost the natural immunity of your crops with Vertal Maraîchage!
A 2018 breakthrough by the Vertal group.
– increases marketable yields
– improves fungicide efficiency
– improves final product quality
– improves storage tolerance
Vertal 100% natural mix – certified for use in Organic Farming.
Company details
Company name: Groupe Vertal
Address: 11 rue de l'industrie
85250 La Rabatelière
Tel : 0251426255
Website : https://www.vertal.fr/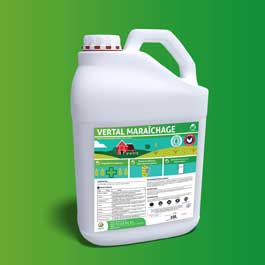 Category :
Intrants Protections des cultures et fertilisation
---