ROOTWAVE PRO WEEDER
STECOMAT sarl
With the Rootwave Pro electrothermal weeder, all it takes is a simple touch of the electrode for the electricity to burn any weed from the inside out, from root to leaf tips. With no energy lost, the current flows through any weed it touches, acting directly on the roots. By harnessing electricity to burn the roots at their very core, Rootwave Pro is the ideal tool for a permanently weed-free area. It doesn't require chemicals or water: 100% natural. Runs fully autonomously from the mains or a generator.
The Rootwave Pro electrothermal weeder doesn't require any specific software and handling or lifting equipment for its daily use.
Localised treatment, totally safe for surrounding plants and wildlife.
No chemicals or substances harmful to users.
No need to refuel, refill or handle hazardous substances.
Natural precision weeding without stimulating the soil and the surroundings.
Treated areas accessible immediately after treatment.
Can be used in cold or windy conditions.
Company details
Company name: STECOMAT sarl
Address: ZA Roubiague
47390 Layrac
Tel : 0553980110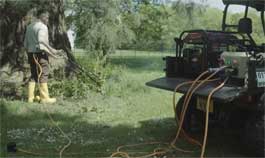 Category :
Machines and automation
Manufacturer's details
Company name : ROOTWAVE Pro
Address : 8 Brook Business Park, Brookhampton Lane, Kineton CV35 0JA, Royaume-Uni

Website : http://www.rootwave.com
---