ONLYWOOD
SEA societe emballages angevine
ONLYWOOD is a type of packaging entirely made of wood, used to transport fruit and vegetables, cheese, fish, oysters. It is both elegant and robust.
This 100% compostable product with a constant tare ensures perfect stability on production lines (stacking).
It can be printed on all four sides, using flexographic or laser printing, and thanks to its handles and printed lid, it is fully safe for users to handle, both in packing stations and POS.
Available in the following standard dimensions:
20X20 / 30X20 / 30X25 / 30X30 / 40X30 / 40X25 / 50X30 / 60X40
and 40 mm for 160 mm high.
Company details
Company name: SEA societe emballages angevine
Address: ZI ROUTE DE TOURS
49490 NOYANT VILLAGE
Tel : 0616749805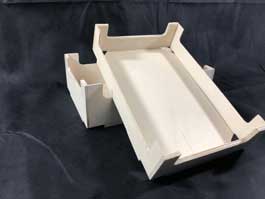 Category :
Presentation, marketing
---